1x Electric Foot Grinder (without AA Battery). Nano-abrasion heads rotate at 2000 RPMs high speed, electric nail file creates the perfect dead skin remover for feet. Regularly remove dead skin and uncomfortable calluses on the feet without damaging the skin.
 Introducing the ultimate solution for smooth and callus-free feet - our Callus Removing Foot Grinder! Say goodbye to rough, dry, and cracked heels with this innovative and easy-to-use foot care tool. Whether you're a busy professional, an athlete, or just someone who loves to show off their feet, our foot grinder will become your go-to companion for achieving baby-soft feet effortlessly.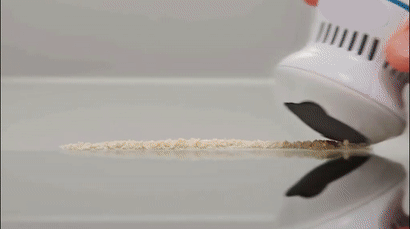 Powerful yet Gentle: Equipped with a high-speed motor, our foot grinder effectively removes calluses and dead skin, leaving your feet feeling velvety smooth. Despite its power, it's designed to be gentle on your skin, preventing any discomfort during use.
Dual-Speed Options: We understand that every foot is unique, which is why our foot grinder features dual-speed settings. Choose between a slower speed for light exfoliation or a faster speed to tackle stubborn calluses with ease.
Replaceable Grinding Heads: To ensure hygienic and long-lasting performance, our foot grinder comes with interchangeable grinding heads. The coarse head targets tough calluses, while the finer head buffs away remaining roughness, revealing the soft skin beneath.
Ergonomic Design: Designed with your comfort in mind, the foot grinder boasts an ergonomic shape that fits perfectly in your hand. Its non-slip grip ensures you maintain full control, making the process safe and easy.
Rechargeable and Cordless: No more dealing with tangled cords or constantly changing batteries! Our foot grinder is rechargeable, saving you time and money. Once fully charged, you can use it cordlessly for extended periods.
LED Light for Precision: Illuminate your foot for precise and accurate callus removal, even in low-light environments. The built-in LED light ensures you never miss a spot and enjoy salon-worthy results in the comfort of your home.
Portable and Travel-Friendly: Compact and lightweight, this foot grinder is the ideal travel companion. Slip it into your bag or luggage for smooth feet on the go.
                     HOW TO USE IT
Start by ensuring your feet are clean and dry.

Select the appropriate speed setting based on your needs and preferences.

Gently glide the foot grinder over the affected areas, focusing on callused areas and rough patches. Let the grinder do the work; there's no need to apply excessive pressure

As you use the foot grinder, the dead skin will be collected in the integrated container, ensuring a mess-free experience.

After use, clean the grinding heads and container with the included brush or wash them with warm, soapy water.
To ensure that your package is properly delivered and you receive shipment within the time frame we advertise, please make sure your address is fully entered and correct. Use correct abbreviations and have spaces inserted properly, we do not take responsibility for the incorrect information. If the package is returned non-deliverable we will issue a store credit for the net price of your item(s) minus the shipping charge.

If you refuse any shipments from BountifulStore you will be held responsible for the original shipping charges, plus the cost of returning the package to us. This amount will be deducted from your refund.

If your tracking information states that your package was delivered and you have not received it. You must address this with your postal service. The 'BountifulStore' does not hold any responsibility for packages that state to be delivered. We do not issue a refund for packages that state being delivered.

Just a reminder that you will receive your order within 7-10 days from the date that it is shipped out, not necessarily from the date that it is placed. After your payment is authorized and verified, it can still take a few days to process your order unless otherwise stated. This is just an estimate and doesn't include weekends or holidays. When your order has been shipped, you will receive an email with tracking information.

We employ the services of major trusted international carriers to fulfill your package in a fast and secure manner. Shipping is offered to the following destinations:

DESTINATIONS:
The United States 7-10 days
Western Europe: 10 - 21 days
Rest of the world 14-21 days
Canada 7-12 days
The United Kingdom 7-10 days
Australia 7-15 days
Order processing takes up to 3 business days before shipment. Delivery times may vary depending on local customs processing times (if any). Kindly note that the order processing time is not included in the shipping timelines.

We are not liable for deliveries that are affected by customs, natural occurrences, transfers from international to the local carrier in your country or air and ground transportation strikes or delays, nor any extra fees, customs or back-end charges incurred.

Priority Shipping & Handling means your order is put to the front of the queue. It will be handled faster from the warehouse and with great care! However, it will not affect shipping speed itself.
The power is nepilates, zasekava SE, the power of nedopučuji
I like it very much, same product from the advert, arrived fast, I loved it, I recommend it, I will buy it again.
Everything was great and well received. -Thank you very much.
I have bought several, excellent, one went bad, the store responded immediately and they sent a new, great service